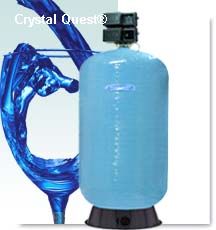 Crystal Quest CQE-CO-02066 Commercial-Industrial Multi Media Water Filter System – 40 Cu.Ft
Multi media Filter Systems also known as depth filters or turbidity filters contains two or more types of media and a gravel under-bedding. The gravel is used as a support to keep smaller medias out of the distribution system and to stop channeling of water.
Metered Fleck controls.
Heavy duty Structural tanks Poly Glass mineral tank.
All brass motor driven control valve with fully adjustable regeneration cycles.
Self-adjusting backwash controller.
Flow controller to limit backwash flow.
Engineered for commercial and industrial use.
Optional skid mounting for tank.
Pipe Size : 3.
Gravel: 900 lbs.
Mineral Tank Size: 48 x 72.
Service Flow: 57 GPM.
Peak Flow: 118 GPM.
Backwash Flow: 125 GPM.
Space Required: 52 x 60 x 95.