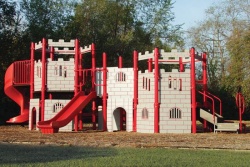 Sports Play 911-135 Castle Modular Playground
SportsPlay Equipment is known for fun equipment of exceptional safety and durability. Since 1996, SportsPlay has been focused on maintaining the best value on the playground and in the neighborhood. We offer an unparalleled diversity in our product line – ranging from classic and modern play equipment, to a full sports line, and a new offering of thermoplastic site amenities. We're sure to have what you need for your play environment.
This modular unit resembles a castle and will trigger children's imaginations. The castle battlement panels are all specially formed to create this imaginative theme, great for engaging young minds. This playground structure features heavy duty 5 inch steel posts, castle theme panels, and activity equipment.
Color: Purple, Red, Blue, Tan, Orange, Yellow, Green, White, Gray, Black.
Use Zone: 37' x 46'.