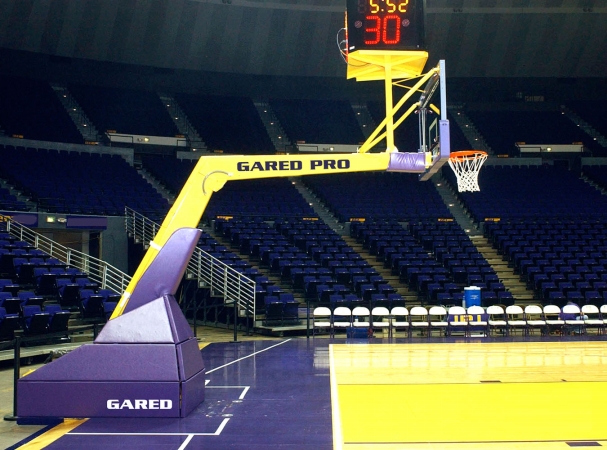 Gared Sports 5018 10 ft. 8 in. Extension Gared Pro H Portable Basketball System FIBA Approved
Gareds Basketball Backstops are the finest engineered in the industry chosen worldwide by professional venues universities schools park districts and arenas. The most copied portable ever built the Gared Pro H with its tapered laser cut trapezoidal extension arm and mast is the ultimate system in strength and stability.
Operating System: The unit is raised and lowered with a state-of-art electric-hydraulic system designed to be totally reliable and trouble free. Simple to operate. Automatically controls folding and lifting of the unit with the turn of a key. Available for domestic and international power supply.
Boom Extension: Tapered laser cut trapezoidal extension arm and mast provide ultimate backboard stability meeting the most demanding requirements of professional competition play.
Backboard: Model LXP4200 – official size 42 x 72 shatter proof rectangular glass backboard with a welded and reinforced steel frame. Half inch tempered glass with fired in target and border for maximum durability.
Goal: Models 3500 and 3500I Master positive lock breakaway goals come standard with these units for the domestic and international markets respectively. Model 3500I Master meets all FIBA standards.
Padding: Durable GARED PRO-MOLD backboard edge padding. The base is fully padded on three sides with vinyl covered 2 thick high density polyurethane foam. The front upright is similarly padded to a height of 7 with 2 thick foam. Standard color for system padding is royal blue.
Ballast: 1000 lbs. (455 kgs.) of ballast welded to and concealed in the base of the unit. Full weight with ballast 3100 lbs. (1406 .kgs).
Height Adjustable: Adjustable to 8 9 and 10 heights.
Adjustable Floor Pads: Two floor pads are encased in steel supports for added stability and are controlled by a screw-